Voices

Starting left going right:
Phillip Johnson-Michael Ellefson-Me(Randy)-Corrie Ellefson-Cory Hansen
holding your lovely certificates.
They loved them and so do I.
Thank you again -You are an artist.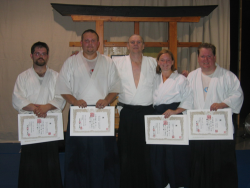 Mid America Aikido Federation (TX)
Head Instructor Randy Bonifay and his students.
*******
Dear Akiyo,
I received our certificates and stamps Friday. I am absolutely stunned by the beauty of each item. The certificates are more beautiful then I could have ever imagined. The stamps are absolute works of art.
I could not be more pleased. You have met and exceeded all of my expectations!
It is going to be a great honor to present my students with
such beautiful certificates. I know they are going to be well pleased.
I wish to thank you for guiding me through the whole
designing and ordering process. You have been a jewel to work with. I would
highly recommend you and your artistry to others.
In the next few weeks, I will once again be contacting you
to design a membership certificate and the calligraphy for our new emblem.
Thank you for everything,
Douglas Wilson
The Matsu Kodou Ryu Kempo Karate Association ( WA.)
*******

Hi Akiyo,
I received my Seal this week, and it is very beautiful, I do appreciate
the job that you did. I also appreciate the professional Translation that
you included. I will certainly share the information about you with my
martial arts friends. I will also let you know when I am ready for a new
project such as certificates.
Sincerely,
Ron Wallace
Shorin Ryu Karate
*******

Akiyo The seals arrived today. I am speechless, which is hardly a common occurance. Your website does not do your work justice. I am beyond pleased.
Michael Taylor
Northwest Koryukan www.northwest-koryukan.com
( OR.)
*******

Thank you--very nice job. The fire cost me a lot and you brought back
sentimental memories. Thank you again.
Dr. Kenneth H. Balliet
RYUKYU SHORINJI-RYU RENMEI (http://www.shorinji-ryu.com/)
Balliet International Karate ( PA. )
*******

I just wanted to thank you for your beautiful work of art. You have done excellent work and I will highly recommend you to all my martial arts friends.
Thank you again.
Mark Kiyabu
KIYADO Martial Arts Dojang ( CA. )
*******

Dear Akiyo,
I just want to tell you how much Glenn loves the seals that you made for him. I took the certificate that you sent and had it framed for him and it turned out spectacular...in red and black linen mats with a gold frame that has a bit of red and black in it...perfect. His students were also very impressed with your work.

Jarill Ristine
Kyusho-Jitsu Kenkyukai
Isshin-Ryu Karate ( NV.)
*******

Hello Akiyo,
Thank you for the certificates and seals. They are most beautiful and I am sure my students will always treasure them as I do. You have gone to great efforts to design them with the simplest of elegance, worked ever so closely with me to fulfill my personal, family and artistic requirements. Creating things of beauty take great patience. My karate family and students thank you.
- Vung Shih Foo
MOUNT KISCO KARATE-DO
GOJURYU USA
( NY.)

Dear Akiyo-san,
I'm in Atlanta now. I was in the UK yesterday and picked up your parcel.
Woooooow!!!! Those certificates and the seal really look greaaaaat!!! What a good job you've done! I'm very impressed by such a high quality, professional work.
I'm sure that some other martial artists in Belgium will be interested in your products. I will certainly make good publicity for you! If anyone would be interested, I will give your details so that they can contact you. However, in Belgium people speak Flemish (Dutch), French and German. So I might have to help them to place their orders in English. But it will be my pleasure!!!
Thank you very much and I do hope to be able to do business with you again in the very near future ...
Greetings,
Johny Verhetden
INTERNATIONAL MARTIAL ARTS ACADEMY BRUSSELS
(Belgium)
*******

I received the seal today. Thank you so very much for your artistry! I
hope generations of Sakurai-ha Kogen Itto Ryu swordsmen will treasure their
Densho signed with your seal. I'll be sure to tell as many people as I can
of your wonderful work.
Donald M. Yehling (Yueh, Hitomo), Ph.D.
Shuseki Shihan
Sakurai-ha Kogen Itto Ryu ( OH.)
*******

I just got the stone. Thank you akiyo! It's perfect...! Thanks again for
your help, professionalism and the prompt shipping. It's exactly what i
wanted! Feel free to post my comments on your website...I'll be referring
people to you! Thanks again, we'll do business soon!
Sincerely,
Jack Griffin ( CO.)